Our courses response to the needs of teachers around Europe. Our offer of courses changes every year depending on the needs that we detect and the suggestions that we receive from our partner centres and colleagues. 
---
New august course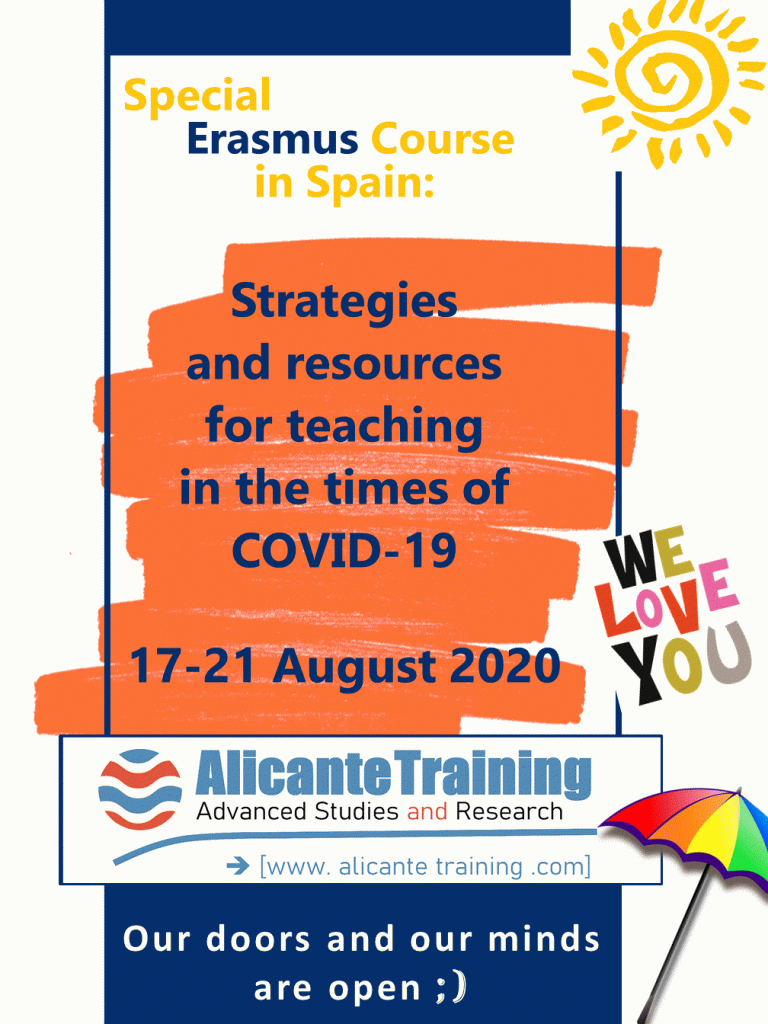 COURSE: Strategies and resources for teaching in the times of COVID-19
This course fulfils 6 of the 7 reasons that justify an Erasmus mobility (https://ec.europa.eu/programmes/erasmus-plus/programme-guide/part-b/three-key-actions/key-action-1/mobility-education-training-youth_en):
1. Support learners in the acquisition of learning outcomes (knowledge, skills and competences).
2. Support the professional development of those who work in education.
3. Enhance notably the participants' foreign languages competence.
4. Raise participants' awareness and understanding of other cultures and countries.
5. Increase the capacities, attractiveness and international dimension of organisations active in the education.
6. Reinforce synergies and transitions between formal, non-formal education.
Course programme
Sunday August 16:
Evening meeting and first contact: Welcome to Alicante. We'll have a drink in a bar to get to know each other.
Monday August 17:
Presentation: What has changed and what has remained the same since the arrival of the coronavirus?
Creation and edition of educational videos (I): Direct edition of videos from Power Point.
Tuesday August 18:
Creating and editing educational videos (II): The Xbox mode of Windows.
Creating and editing educational videos (III): Working with Loom.
Wednesday August 19:
Online teaching: Tools and procedures for videoconferences, advantages and disadvantages of each provider (Zoom, Google Hangouts, Cisco Webex, Skype…)
Limitations due to data protection regulations. Obligation to protect student data (European regulation).
Thursday August 20:
Friday August 21:
Working with Google Drive. Online exams, online correction.
Afternoon Final snack
Saturday August 22:
Final meeting. Do you think you have discovered everything about Alicante? We show you what you have NOT seen and explain you what nobody has explained to you…. Farewell (until next year?)
Rate: 350€ / person
Includes classes, materials, advice on tasks related to the city life and, in general, everything you may need in Alicante.
Teaching language: Basic English
Course fees: 350€
1 Editions in 2020:

August, 17 to 21



New offer of courses after lockdown
---
COURSE: New ways to teach in Life Sciences: Successful experiences (practical workshop)
In this course we show 5 different ways to make the students find the information and learn by themselves in different aspects of Life Sciences. Participants will practice the five teaching styles working as if they were students: (1) Problem Based Learning, (2) Challenge Based Learning, (3) Flipped Learning, (4) Service-learning and (5) Project Based Learning.
Teaching language: Basic English
Course fees: 350€
2 Editions in 2020:

July, 6 to July, 10

September, 28 to October, 2

---
COURSE: Teaching of English using digital tools
Digital technologies are changing the way we can teach English today. In this course we will explore different websites, internet resources and applications that can help us teach English in a more interesting and effective way and that can also save our precious time preparing the classes or correcting students´ tasks. The course also includes practical workshops so that the teachers can try the different tools and applications that will be presented.
Teaching language: Basic English
Course fees: 350€
2 Editions in 2020
July 13, to July 17 (full)
October, 19 to October, 23
---
COURSE: New approaches to online teaching
In these pandemic times we discovered many new approaches to tele-teaching and tele-working in general. This course would like to review the most effective tools, applications and new approaches to be applied in this unusual situation that are here to stay.
Teaching language: Basic English
Course fees: 350€
2 Ediciones en 2020
July, 20 to July, 24 (completo)
October, 19 to October, 23
---
CURSO: Español actual, neologismos y expresiones comunes en los jóvenes de hoy
En todos los países los jóvenes utilizan un vocabulario que no sigue los usos normales, pero que con el paso del tiempo acaban formando parte del lenguaje común de la población e incluso del lenguaje académico. En español, los "milenials" "pasan" de los "bomers", no porque sean "haters" sino porque los que consideran "cancelados", en especial porque no les gusta su "postureo". Estas palabras de uso común, más otras recientemente aceptadas por la Real Academia, como guasapear, agendar o flipar, hacen del castellano una lengua dinámica, pero ese dinamismo obliga a los profesores que lo enseñan a tener que refrescar sus conocimientos constantemente.
Lengua de enseñanza: Español (inglés cuando sea imprescindible).
Course fees: 350€
2 Ediciones en 2020
July, 27 to July, 31 (full)
October, 19 to October, 23
---
COURSE: Integration of students and minorities: Structured Educational Visits to Schools and Special Centers
In this course we show how to manage specific minorities and multiculturalism in educational centers. We will visit centers in disadvantaged neighborhoods, centers with students of more than 30 nationalities, centers with international (non-economic) migrants, specific centers for students with specific disabilities, centers for adult students and some associations of minorities that try to improve the social integration of these minorities, and -over all- the girls of these collectives.
Teaching language: Basic English (or any other language, please, read note 2)
Course fees: 350€
1 Edition in 2020:
September, 28 to October, 2
NOTES:
Due to its special characteristics, this course is limited to 10 members.
Due to the small number of teachers in each group, we offer to impart this course in any other language of the EU, or in different dates, if a group of more than 6 teachers agree to come together.